You may remember that I blogged about a new web site by Glidden Paint several weeks ago called My Colortopia. The site offers lots of advice on choosing paint colors, and there's an especially neat tool called My Image Inspiration.
If you catch the indecisive bug (as I often do!) when choosing colors for your home, My Image Inspiration allows you to upload a picture of something you like and think would work for your space—a piece of art, a favorite fabric, furniture you may already have, etc. The tool then gives you a selection of color palettes to browse through, print, share and paint.
For fun, I uploaded a picture of this pretty—and very colorful--Waverly fabric to see what palette it would suggest.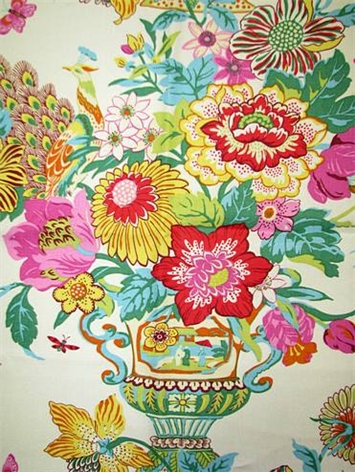 Here's a screenshot of my results. It gave me several different color palette options:
The color choices were actually a little more muted than I expected for the fabric, but I do really like the colors in the first palette. I wonder if they would actually work together in real life. . . I think it would take actual paint swatch cards to find out.
Do you have a fabric, accessory or piece of art that you're really drawn to? Take a minute to upload it here and see what paint colors Glidden recommends. I'd love to hear your thoughts on the results you get.
I have been sponsored by Glidden brand paint to write this post but the thoughts and opinions expressed are my own.